Some couples supply their own confetti, either in bags or baskets for people to grab a handful, or in individually wrapped cones pictured here.
Confetti photos are a fairly standard shot that most couples want to do on their wedding day. Because of the nature of the confetti, lightweight petals or paper being thrown (as hard as people can throw things that are as light as feathers) straight towards two peoples faces, causing them to cower slightly whilst grinning through it; it is a very difficult shot to get right! One tip I've discovered lately, is to ask the crowd to thrown some over my head too, that way you can get more in the shot!
The best confetti that I've worked with is no bigger than a penny and there should be lots of it. If this shot is important to you, then supply your own, some people will bring confetti, but never enough to get a good shot. You also won't have consistency if you wish to keep the colours of the colour scheme in your confetti too and you won't get a say in how large the confetti is.
Larger confetti (usually rose petals or similar), is fine to use, but gets caught by the wind more, and I would suggest having more of it than less if possible. if there isn't enough, it can tend to look a bit fruitless as there won't be enough in the shot as the wind whips it away before we've had a chance to take a few shots.
You should check with your venue about their rules on confetti. It should ALWAYS be biodegradable, otherwise it's just litter afterwards! Usually a church doesn't want it in the grounds as they have weddings often every week and you wouldn't want someone-else's confetti rotting away in the grounds on your wedding day. Other venues tend to ask that you do it in a certain place, just so that it's easy to clean up.
Some people also opt for bubbles instead of confetti, which can work nicely, especially as it doesn't create any mess, you can do it anywhere. I've shot weddings where they blow bubbles for the exit march at the end, but I would recommend setting up the bubbles for afterwards as again, wind can have an effect on the bubbles and as they're transparent, they're harder to see in the shot.
Spot the confetti: Here, larger petals were used in quite windy weather, as you can see, there isn't really enough and it hasn't quite gone according to plan.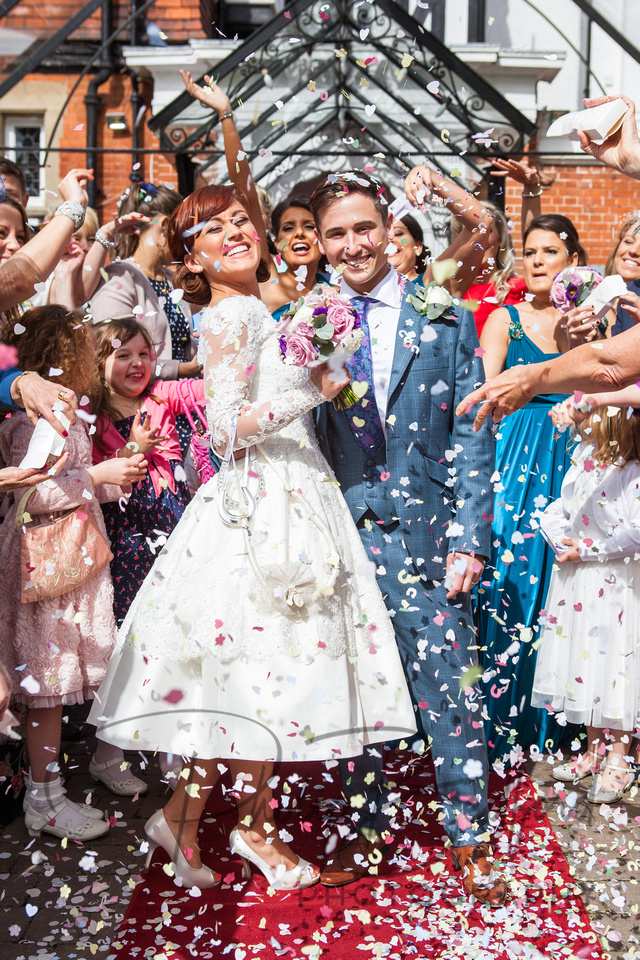 Loads of confetti here – This is how you do it! And the venue has it done on the red carpet, so someone just comes to afterwards with a hoover to clean it up!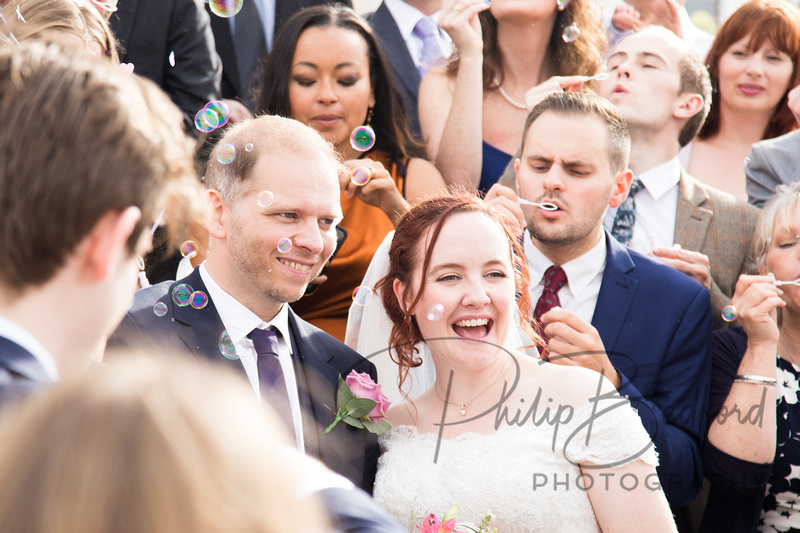 Bubbles instead of confetti can be a nice alternative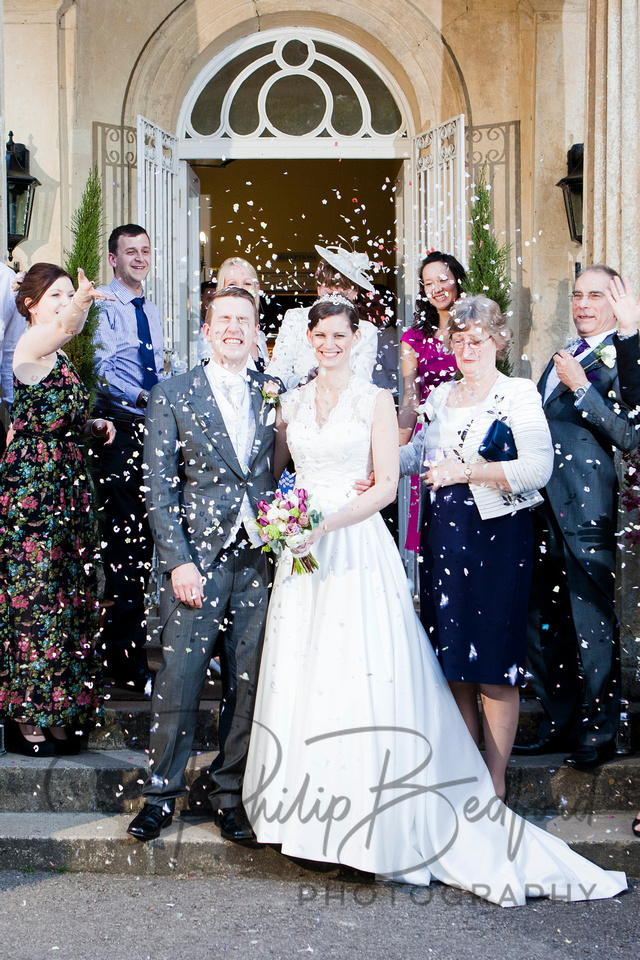 A lot of people do it immediately after the ceremony, but you don't have to. This was taken in early evening with close friends and family and I had time to get studio lights together to light it properly, this really helped bring out the colours!
Have a look at the groom's face in the above picture, it's something that is inevitable when people shower you with something, even if it's pretty petals! I always shoot about 10 frames for confetti and even in the best one's you might have a bit more of a grimace than you'd like! Try and grin through it, focus on looking at the camera during the shot, and SMILE! Be prepared to have it all in your hair and probably don't the back of your shirt or dress afterwards as well!